A Complete Collection of Awnings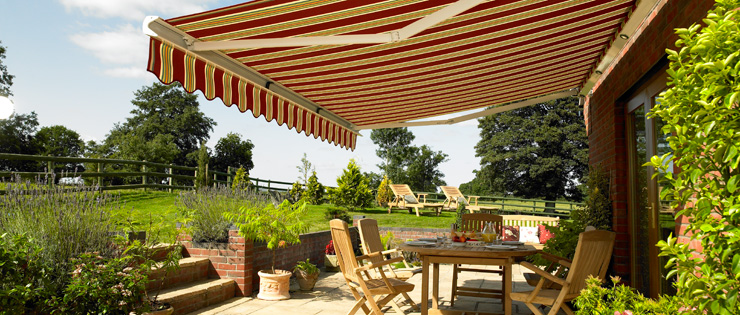 Gardens are fast becoming an extension of the house and an awning is an effective way of creating an all year round outdoor space, offering protection from the unpredictability of the Irish weather! What better way of enhancing your outdoor dining and leisure areas than with an awning that will protect you from the sun and the rain. Awnings allow you to get the best use from your home at any time of the year.
Available as a motorised or manual option, customers can choose from a wide range of accessories including sun, wind and vibration sensors, an integrated timer, as well as heating and lighting preferences. All motorised awnings come with an easy-to-use remote control which gives the user full control over the awning projection.
The system is available with a choice of 98 Dickson fabrics (55 plain and 43 striped) all of which are specially designed for outdoor use and guaranteed not to fade. Cleangard™ technology also means Valencia awnings are rot proof, will resist stains and have a barrier against dirt and mildrew. It also prevents 'bagginess' so the fabric will remain at its best for many years to come.

Manufactured in the UK using high quality components
Over 90 Dickson fabrics to choose from
Fabrics treated for waterproofing and sun protection
Fully motorised options and weather sensors available
Additional lighting and heating options
Four valance shapes
Made-to-measure in widths up to 5.5m
Slim 26cm cassette
Fully guaranteed for 3 years